Review- Sawmill Creek Riesling
Aug 14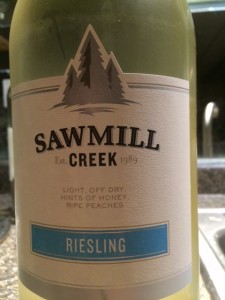 This may be a funny wine review in comparison to most I have written but I tested and drank this bottle of Sawmill Creek "Riesling" over 2 evenings of binge watching episodes of season 4 of The Walking Dead.
If you have watched this series, you know that you watch more than one episode on Netflix per evening and as many as you can handle before bed time.  The episode I saw,  the Governor come back and try to take over the prison. It was a very intense and sad scene of one of the great characters dying in the process.  The wine certainly held up to this. With a light, off dry taste that had a sweetness and hint of honey and ripe peaches, it was a force to be reckoned with.    It tasted so yummy, even with my emotions being erratic during a few scenes.
I would give this wine a score of 89/100 and definitely recommend it for either a night sitting at the fire or during your television binge-watching. If you are looking to have a bottle of wine for dinner, I would think pairing it up with a good chicken, fish or seafood, it would be a hit.