Overnight French Toast….. so yummy and easy to make
Jan 12
A very easy breakfast to prepare for your family and kids can be ready in only a few minutes. After you wake up, you pop it in the oven!
My children love french toast so when I feel like saving time for breakfast, I will make Overnight French Toast the night before. I generally always have the ingredients in the house and it takes maybe 10 minutes maximum to get it all put together.
I made this recipe last night and here is the recipe:
Overnight Oven-Baked French Toast
This recipe is from the website http://www.myrecipes.com/recipe/overnight-oven-baked-french-toast-10000001120185/
Overnight Oven-Baked French Toast
Prepare this french toast recipe the night before and pop in the oven for an easy and delicious
brunch dish.
Dust with powdered sugar just before serving.
Recipe Time
Prep Time:
Chill:   8 Hours         
Bake:  45 Minutes
1 (16-ounce) French bread loaf (I used 10 slices of whole wheat bread)
1/4 cup butter, softened
4 large eggs
1 cup milk
1/4 cup sugar
2 tablespoons maple syrup
1 teaspoon vanilla extract
1/2 teaspoon salt
Preparation
Cut bread loaf into about 10 (3/4-inch-thick) slices.
Spread butter evenly over one cut side of each bread slice.
Arrange bread, butter side up, in an ungreased 13- x 9-inch baking dish.
Whisk together eggs and next 5 ingredients; pour over bread, pressing slices down. Cover and chill 8 hours.
Remove bread slices from baking dish, and place on two lightly greased baking sheets.
Bake, uncovered, at 350° for 45 minutes or until golden
I prepared the meal as shown but decided to bake the french toast in the same pan as it was chilled overnight in.  As per some comments on the webpage, I also buttered the bottom of the pan with some margarine.
Here is the final picture when it was done cooking and out of oven.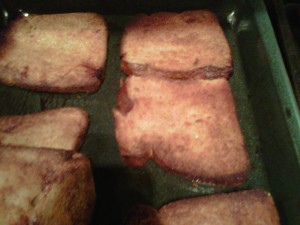 My thoughts about this recipe:
Although the outside was crispy while most of the inside was soft, it was crispier than my family liked so I would put it in for a little less time. I took it out a few minutes early and even then, it was fairly crispy.  Next time, I may cook for 30-35 minutes as opposed to 45 minutes.  Otherwise, it was very yummy and the family loved it.