Egg Farmers of Canada help bring families together!
Feb 23
The EFO wants to bring families back to the table for the most important meal of the day and every day should start with some quality family time and a healthy breakfast made with Ontario eggs.
Looking for a more Canadian dish? Let your Canadian spirit shine through by preparing EFO's spin on Eggs Benedict. This recipe features maple syrup and Montreal-smoked meat, two well-loved Canadian ingredients. Canadiana Eggs Benedict is quick and easy to make, so you won't miss a moment of the action.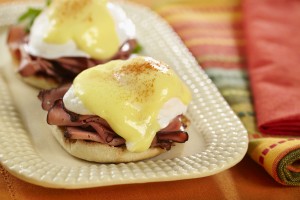 Canadiana Eggs Benedict
With the distinct flavour of Montreal smoked meat, this eggs benedict will be a breakfast or
brunch favourite you will love to enjoy at home.
Serving:
4
Prep Time:
5 minutes
Cooking Time:
5 minutes
Ingredients
1 tbsp (15 mL) white vinegar
6 ozs (180 g) shaved Montreal smoked meat
4 eggs
2 English muffins, split and toasted
Maple Hollandaise Sauce:
¼ cup (60 mL) butter
2 eggs
¼ tbsp (15 mL) pure maple syrup
1 tbsp (15 mL) lemon juice
Garnish: pinch of smoked paprika (optional)
Directions
In a small skillet, warm smoked meat over medium heat until fragrant; keep warm.
Maple Hollandaise Sauce: Using a small pan, melt butter over low heat. In a small bowl, whisk
together 2 eggs, maple syrup and lemon juice until frothy. Slowly add egg mixture into melted
butter and whisk gently for about 6 minutes (or until sauce is thickened and coats the back of a
spoon) over low heat. Remove from heat and keep warm.
Meanwhile, in a large shallow saucepan filled halfway with water, add 1 tbsp (15 mL) white
vinegar and bring to a boil. Reduce heat so water is simmering.
Crack each egg to be poached into a small bowl or ramekin to gently slip into simmering water.
Poach for about for 3 to 5 minutes or until white is set and yolk is cooked as desired.
Top English muffin halves with warmed smoked meat. Using a slotted spoon, remove poached
eggs from water and place on top of smoked meat. Spoon Maple Hollandaise sauce over top of
each egg. Sprinkle with smoked paprika, if desired.
Variation:

Regular Hollandaise Sauce: Omit maple syrup and add 1 tbsp (15 mL) of water.

Peameal Bacon Eggs Benedict: Omit Montreal smoked meat and substitute 4 slices
cooked peameal bacon and top each English muffin half. Top with poached egg. Whisk
in 1 tsp (5 mL) Dijon mustard into the Hollandaise sauce to serve.
Tip:
To thicken the hollandaise sauce, simply heat and stir for 1-2 minutes longer until the sauce
thickens to your desired consistency. Keep in mind that the maple flavour will decrease the
longer you cook the sauce, so add more to taste.
NUTRITIONAL ANALYSIS PER SERVING:
PROTEIN: 20 grams
FAT: 24 grams
CARBOHYDRATE: 18 grams
CALORIES: 370
FIBRE: 1 gram
SODIUM: 820 mg
Eggs are nature's multivitamin and loaded with health benefits. It seems 2014 is destined to become the year of the egg, so why not have an "egg-tastic" protein packed meal to keep your energy levels high and your team spirit going all day long