Easy Pasta Salad
Jul 22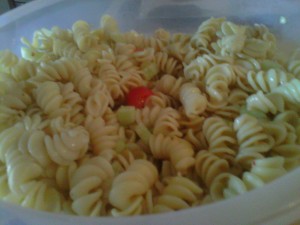 Yesterday, I was looking for a very easy pasta salad recipe to make to go along with dinner.  I found the following recipe online and the link is http://allrecipes.com/Recipe/Easy-Cold-Pasta-Salad/
Ingredients
14 ounces                             uncooked rotini pasta
2                             cucumbers, chopped
1/2                             onion, finely chopped
10                             cherry tomatoes, quartered
3/4 cup                             pitted black olives, sliced
1 cup                             Italian-style salad dressing
                           Directions
Fill a large pot with lightly salted water and bring to a rolling boil over high heat. Once the water is boiling, stir in the rotini, and return to a boil. Cook uncovered, stirring occasionally, until the pasta has cooked through, but is still firm to the bite, about 8 minutes. Drain and cool by running cold water over the pasta in a colander set in the sink.
Combine cooked and cooled pasta with the cucumbers, onion, tomatoes, and olives in a large bowl. Pour the Italian dressing over the salad and stir to combine. Cover and refrigerate for at least two hours before serving.
This was a super easy recipe. I did not put in the olives as my household doesn't like the but it turned out well. It was very yummy.