Easy Carrot Soup Recipe
Oct 09
Recently there was a sale on carrots so I bought a few bags. The kids and I made some homemade carrot bread and yummy carrot muffins.
With my last bag of carrots, I was craving something warm and easy for the fall season so I decided to make some carrot soup.
I found the following recipe on the website Home.Made.Interest and wanted to share with you:
Easy Carrot Soup
Author: Kat Jeter & Melinda Caldwell
Ingredients:
2 lbs Carrots, sliced
1 Yellow onion, sliced
4-5 c Chicken Broth
1-2 Tbsp Lemon juice
Salt & pepper to taste
 Instructions:
Place carrots and onions in a pot and fill it with broth until it is covered.
Bring the liquid to a boil then reduce to a simmer and cover with a lid.
Let the vegetables simmer for about 30 minutes or until they are extremely soft.
Using a stick blender, or a regular blender, puree vegetables and broth until they are smooth.
Add more broth if needed to get it to a consistency you like.
Add salt and pepper to taste.
Add lemon juice to taste.
Enjoy!
The recipe can be seen at https://www.homemadeinterest.com/easy-carrot-soup/
Soup cooking:
Voila!  Easy carrot soup and it was yummy!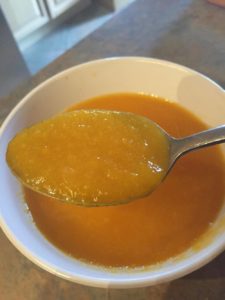 Kudos to Home.Made.Interest for the yummy recipe.  I will definitely make again!
Looking for a great carrot soup, look no further! Yum!