Do you like a great burger?  I know I do!
I recently watched a show called "Burger Wars" on television. It was a competition for the title of "Best Burger in Toronto".
The restaurants participating in the challenge were Parts and Labour  with their "P n L burger", Dangerous Dan's Diner with "The Coronary Burger" and The Burgers Priest with "The Vatican Burger".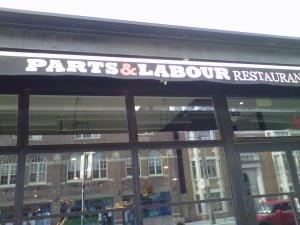 My family and I last weekend went to the Blue Jay and then decided to go try out the " P n L burger" at Parts and Labour. The restaurant is located on Queen Street West in Parkdale, between Lansdowne and King Street.  We took the street car from Queen and it was very easy to find.
I really liked the look and feel of the restaurant.  There were long tables throughout the restaurant that were able to sit about 12 people so would be great for big groups and easy to accommodate any number in your party.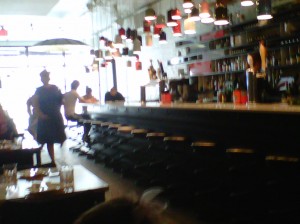 The restaurant was quite steadily busy while we were there and in part from the "Burgers Wars" show.  Our server had told me that business has increased since the show aired on television.
My husband and I both ordered a P n L Burger, in fact my kids did too.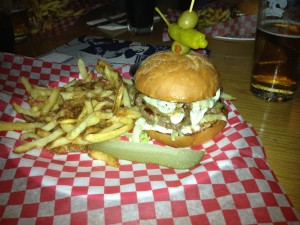 "The PnL Burger" – Bacon onion jam,  Monterey Jack cheese, dill pickle, iceberg lettuce, black bird bakery bun and fries
The burger was very good and we enjoyed it.  The bacon onion jam was so tasty and the meat was cooked just right.
They had a great selection of beer and draught that I had never heard of before.  I had a glass of Mill Street Organic Lager and I quite enjoyed.  I joked with my husband that I was helping the environment drinking organic lager.  It was quite good and I would love to see if I could find it again closer.  My husband had a draught called Steam whistle which he enjoyed also.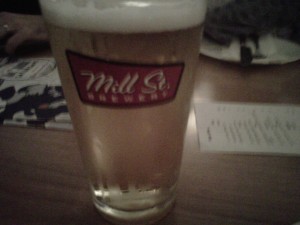 There was a mix up with one of my children's burger in the kitchen which we were not too worried about, things happen.  They gave us the burger on the house because of this extra time we had to wait for the burger.  I was so impressed with the service in this restaurant.
Not only did they give us a burger for free, they gave us a free dessert for the trouble.  Wow, no trouble indeed but I was just amazed at how awesome they were.
Here is a look at the yummy dessert we were given: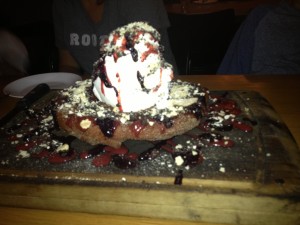 Parts and Labour festival super doughnut vanilla ice cream, chocolate cookie crumb, toasted meringue , butterscotch, strawberry sauce
This dessert was beyond heavenly and we all loved this as well.
The overall impression of Parts and Labour:
. Service was impeccable with very nice decor
. The food was very good
I would definitely recommend you all to go visit Parts and Labour if you are in Toronto to taste the PnL Burger, after all it was #1 on Burger Wars.
Who doesn't like a great burger?
You can visit their website at http://www.partsandlabour.ca/ for more information.