Aged Cheddar & Parmesan Mac n' Cheese
Jan 21
As I have mentioned before, I won a year supply from Campbells Canada of their new product Stockfirst.  After looking through their website www.cookwithcampbells.ca , I picked a new recipe to try.  I used a recipe with the new Cream Stock.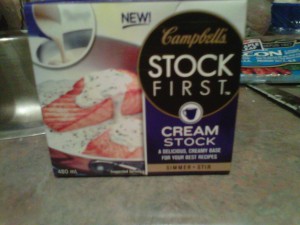 It was called Aged Cheddar & Parmesan Mac n' Cheese
Here is the recipe below from the Campbells website:
http://www.cookwithcampbells.ca/en-ca/Recipes/agedcheddarparmesanmacncheese.aspx
Ingredients
| | |
| --- | --- |
| 1 box (500 g) | rigatoni |
| 4 | strips bacon, cut into ½" (1.5 cm) pieces |
| 1 | small onion, diced |
| 2 cups | mushrooms, sliced |
| 2 | cloves garlic, chopped |
| ½ tsp | smoked paprika |
| 1 carton | CAMPBELL'S Stock First™ Cream stock |
| 1 tbsp | fresh thyme, chopped |
| ¼ cup | parmesan cheese |
| 2 cups | shredded five year old cheddar (1½ cups for the sauce, ½ cup for topping) |
| ¼ cup | bread crumbs |
Directions
1. Cook rigatoni following directions on package and set aside.
2. In a heavy bottom sauce pot or Dutch oven sauté bacon pieces over medium heat until cooked. Add onion and mushrooms and cook for about 5 minutes until they are soft. Add garlic and smoked paprika and cook for 1 minute more.
3. Lower heat to medium low, add cream stock and thyme and gently simmer, gradually adding 1 ½ cups of cheddar cheese, until smoothly blended into sauce.
4. Add cooked pasta noodles and stir to completely coat with sauce. If using a pot, transfer to an ovenproof casserole dish otherwise leave Mac & Cheese in Dutch oven. Sprinkle evenly with bread crumbs and top with ½ cup of cheddar cheese and ¼ cup of parmesan cheese.  Broil uncovered for 2 minutes or until golden brown.
Recipe Tips
For an even more indulgent version of this recipe use sausage meat instead of bacon.
For a more elegant variation try using a more artisanal cheese like Oka or cave aged Gruyere. Ask your cheese monger for suggestions!
Nutritional Information (Per Serving)
870 Calories, 33g Fat, 1060mg Sodium, 106g Carbohydrate, 6g Dietary Fibre, 37g Protein, 50% Daily Value Calcium
SOURCE OF PROTEINVERY HIGH IN FIBREEXCELLENT SOURCE OF CALCIUM
MyNotes……………………………………………………………………………………………………………………………………………………………….
I made a few variations to this recipe. I used a combination of cheddar and mozeralla cheese and instead of garlic cloves, I just added a couple sprinkles of garlic powder.  I omitted the smoked paprika and everything else was the same.
I found that it look me longer to prep than the recipe mentioned but it wasn't too much more.  I let my 5 year old daughter hand me the cheese, thyme and the ingredients I needed to put it all together so definitely easy recipe for your kids to help also.  She enjoys helping out in the kitchen.
I will show you pictures below of how it turned out.
I had 7 sitting at the table for dinner tonight- 2 adults and 5 children.  The adults both liked this recipe while 3 of the 5 children liked it also.
We had a vote as to whether it would be made again as a meal in our house and sure enough, it is a WINNER.  With the voting of 5 of 7 people enjoying it, it passed by the majority.
This is a great change up if you eat macaroni and cheese a lot.  It was a great recipe and easy to make!
Recommended!
We will make it again.  Hope you try it and like it as we did!