A few of my fave recipes I like to cook
Jan 08
As a mother of four, I am always cooking and trying out new recipes.    Hope you enjoy and try them out too!
Darlene's Chili
One of my favourite meals to cook is Chili, mmm!  Over the years of experimenting, I have came up with my own version and make this many times from over the fall to the spring season.
Ingredients:
2 cans red kidney beans
2 cans sliced mushrooms
2 cans kernel corn
Old Elpaso Chili seasoning mix
1 small can tomato paste
1 can of spaghetti sauce
1 can of stewed tomatoes
1 can of brown beans
1 green pepper, red pepper and yellow pepper diced
1 lb ground beef, cooked
Cooking Instructions
Mix all together in crockpot. (slow cooker)  Cook on low for 8 hours or high for 4 hours.
* This will make a full 6qt crockpot full.
I hope you enjoy this chil as much as my family and I do!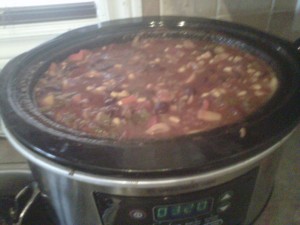 Chicken Parmesean, mmmm!
I make this every couple of weeks in my house.  It is so easy, tastes great and even a good menu item for when you have a few extra guests.
Ingredients:
1 egg (cracked w salt and pepper and stirred and sitting in bowl)
bread crumbs ( I use italian bread crumbs for everything but any bread crumb will do)
spaghetti sauce (just enough to spread on top of chicken)
grated fresh parmasean cheese
skinless boneless chicken breasts
Directions:
1. Dip chicken in egg mixture.
2. Dip chicken in bread crumbs and make sure the chicken is coated.
3. Place the chicken on the pan.
4. Bake at 400 degrees for 20 minutes.
5. Take chicken out of oven.
6. Put spaghetti sauce on top of the chicken.  This is up to you as to how much you use but I use a few spoonfuls.
7. Sprinkle cheese over the spaghetti sauce. Again, use as much or as little as you prefer.
8. Bake in oven until cheese melts.
Voila! You are done. Very tasty chicken parmesean and very easy!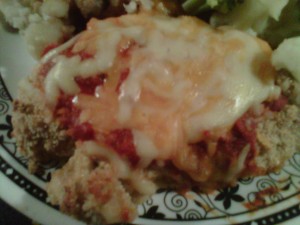 Chicken Stirfry
I absolutely love a great stirfry. I sometimes order them when I go out for a meal but I make them quite often as well.  And, they are so easy to make! And healthy too!
All you require is fresh veggies, meat of choice, a little bit of cooking oil, and stirfry sauce if you would like to add that also.
For this particular stirfry, I used alfalfa sprouts, green pepper and red pepper. I also add green beans, snow peas, and nushrooms. The more veggies, I think the better!
Simply, put a little oil in your wok or cooking pan. Heat up, add chicken or meat of choice and cook until the chicken is fully white. Add your vegetables and continue to sautee and cook until vegetables are ready to your liking. Towards the end, drain the cooking oil from the pan and add your stir fry sauce. Even soy sauce tastes very good also.
My family loves stirfry over rice so I use that as well but you could also use egg noodles, or eat simply just as is.
Very yummy and tasty.