The Glama Gal Tween Spa had its grand opening today in Newmarket. For us who were lucky to have got our tickets reserved in November, it was a lot of fun.
The décor is pink and just awesome for a girl experience. From manicure and pedicure stations, to making your own lip gloss, bath crystals, candy, perfume scents, it was amazing.
The staff was wonderful, the vibe was energetic and fun, and the girls were taken care of so well.  One of the staff told my 6-year-old daughter that when she comes, she will be treated like the "queen that she is".  Incredible.
The girls had a wonderful time getting pampered, enjoying some lemonade and snacks and dancing away to the beats of the music provided from a happening DJ.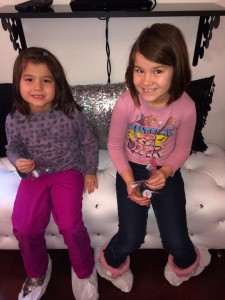 Melissa and Ashleigh enjoying the music
Here is Ashleigh with Samantha who plays Stephanie on the Next Step on Family television.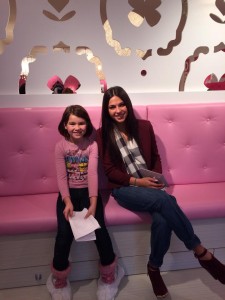 The girls are all requesting to have their next birthday parties here and are very excited to go back again.  This is definitely going to be a hot spot in Newmarket for the girls.  For the mom's, I was also told today that they have a "Mom and Me" package if you would like to be pampered with your daughter (s).  I am so there!
To check them out, please visit their Facebook page at https://www.facebook.com/glamagalnewmarket or their website at http://glamagalparty.com