My family and I love breakfast, always have and always will!  A big breakfast starts off the day great and a place we love to go to when we do go out for breakfast is always the same.
Daybreak located at the corner of Davis Drive and Leslie Street in Newmarket.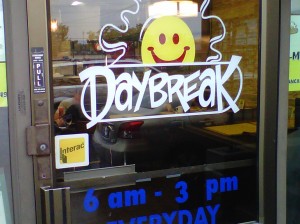 The kids are always spoiled at tis restaurant with pancakes covered in chocolate chips, strawberries and whipped cream.   My son lately has been ordering the Belgian waffles with strawberries and whipped cream and enjoys them very much also.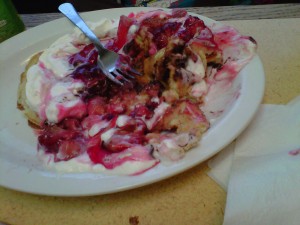 The presentation is quite nice but this picture was taken after we cut up the pancakes. My girls love this!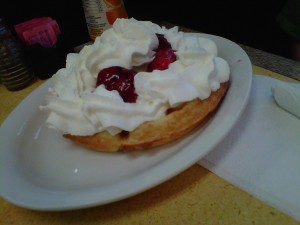 Belgian waffle with strawberries and whipped cream
My husband and I always order the 3 egg breakfast with sausage and whole wheat toast.   It is very good. The sausages are cooked perfectly and always tastes good.  The price is reasonable for the 3 egg breakfast, it is $6.99. The portions are great and you leave there definitely full and not in need for any more food for hours.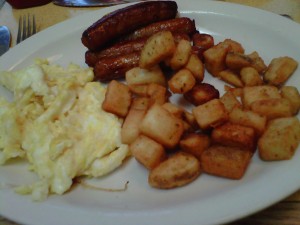 3 egg breakfast (scrambled) with sausage, home fries and whole wheat toast
The service is great and fast and I would recommend this restaurant for anyone who likes to go out for breakfast.
If you do check it out, please let me know and share your experience at Darlene@darlenemorrison.com